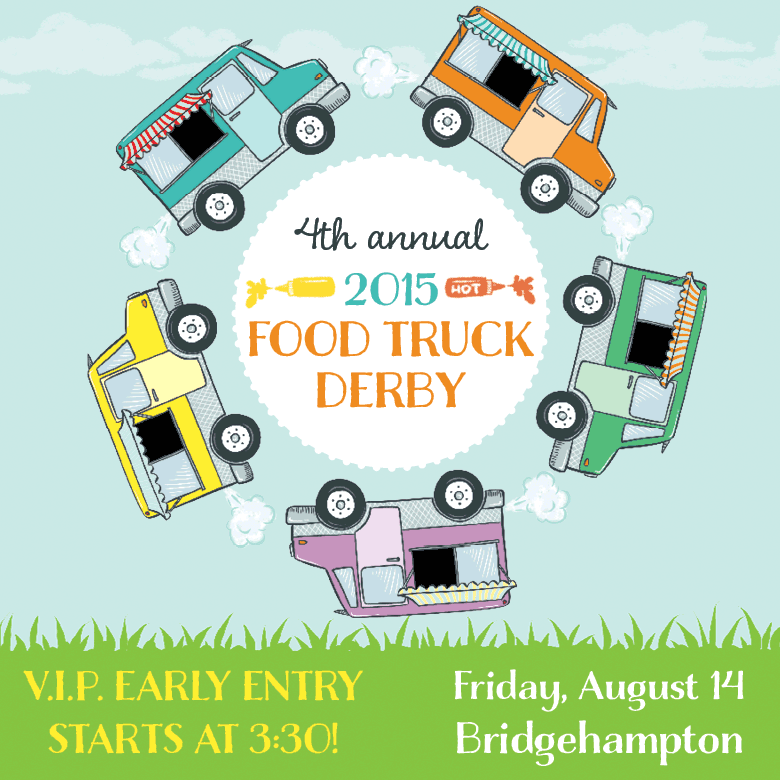 Friday, August 14th
3:30pm – 7:00pm
The Hayground School
151 Mitchell Lane, Bridgehampton NY 11932
The Great Food Truck Derby is back! Bring the whole family for a bonanza of ethnic and mobile eats rarely seen on the East End, when a caravan of New York City and Long Island food trucks park amidst potato fields at the Hayground School, alongside New York wine and beer and non-alcoholic drink offerings.
Ticket price includes one serving at every food truck (at least 15 trucks will be in attendance) and includes drinks. The food truck coming together will coincide with the Hayground School Community farmers market and programming for kids and families. And the event will benefit the Hayground schoolyard projects in the region, which provide culinary arts training for local kids.
This year, VIP tickets available! Get half-hour early access to trucks, limited to 100 tickets, to get to your favorite trucks first!
Scheduled participants include—
Food:
Eat Me Drink Me  •  Whole Le Crepe  •  Hampton Coffee Co.  • Blondies Bakeshop  •  Hamptons Foodie  •  Coolhaus  •  Pizza Luca  • Noah's  •  Grill Boys Food Truck  •  Slammin Slider Nice Buns  •  The Inn Spot … Out  •  Ponti Rossi  •  Hamptons Artistocrat  •  The Sea Bean Natural Foods Co.  •  Sweet'tauk  •  Long Island Oyster Company  •  and More!
Passed snacks: 
Old School Favorites  •  Sydney's Sweets  •  Just Mayo  •  Just Cookies •  Sexy Pop
Beers:
Brooklyn Brewery • Saranac • Coney Island Brewing Company • Southampton Publick House
Wines:
Wölffer Estate, Bridge Lane
Other drinks:
Sweet'tauk Lemonade